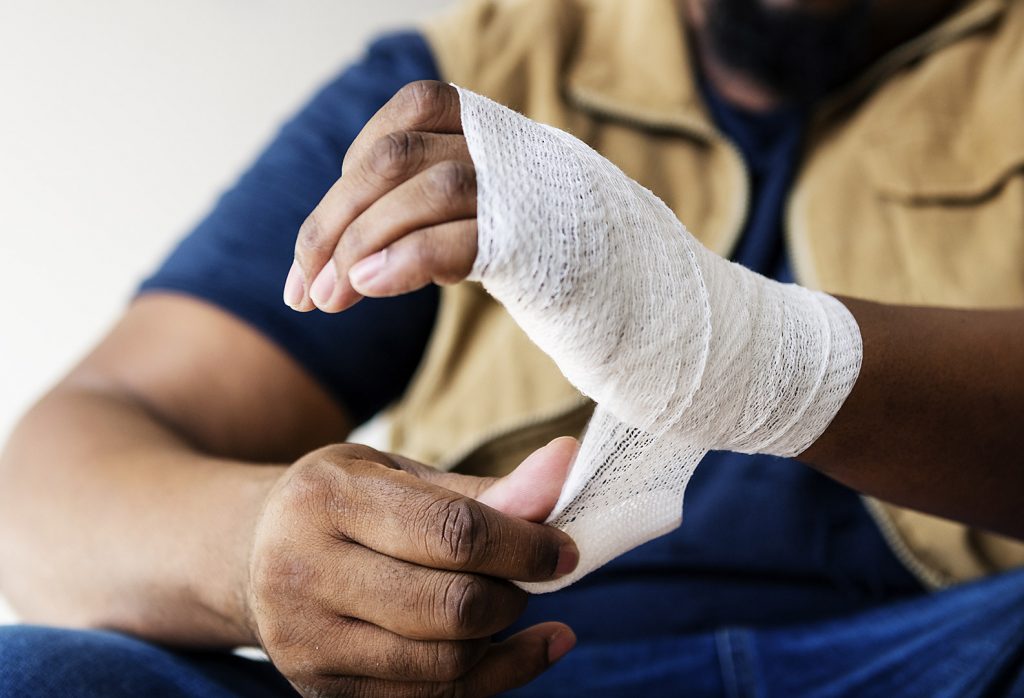 Our construction workers are hard-working men and women who have chosen one of the most dangerous occupations in the United States. Just imagine how barren and lifeless cities and small towns across the country would be without the skilled hands and creative minds of our construction industry.
But our beautiful buildings, stunning bridges, cozy homes, and vast roadways come with a price—ever year, thousands of construction workers are seriously injured and killed while performing their work.
Construction accidents result in serious injuries because of the heavy equipment used at these sites. Working with lumber, concrete, bulldozers and cranes obviously increases the chances of getting hurt or killed. Using power tools is a daily occurrence on construction sites, and hazardous materials are everywhere, so accidents and injuries are going to happen. According to the Bureau of Labor Statistics, the construction industry is both the largest and most dangerous industry in the United States:
One in ten (10% of) construction workers suffer an injury on the job each year
The construction industry has the highest rate of workplace injury
There are approximately 1,000 construction fatalities each year in the U.S.
Fall injuries result in more than a third of all fatalities in the construction industry. Approximately 40% of all work-related falls in the U.S. occur at construction sites.
OSHA
Construction workers know going in that their job is much more dangerous than most other jobs, but that doesn't mean they should have to take their lives in their own hands every time they clock in. There are rules and regulations set forth by the Occupational Safety and Health Administration (OSHA) to ensure construction workers are protected when they enter a job site. Even when developers, contractors, foremen, and construction workers follow OSHA rules and regulations, accidents will happen.
If you have suffered an injury at a job site or have lost a loved one due to a construction site accident, you probably will have to file a workers' compensation claim. If a third party was at fault, you may be able to file a personal injury claim against the third party with the guidance of a construction accident attorney who handles these complex cases.
Workers' Compensation or Personal Injury?
Construction workers are provided a clear set of instructions for when accidents occur on the job. The first thing is to get medical help for the victim and then report the accident to a supervisor as quickly as possible. If the injury is so serious that the victim can't speak, someone needs to act immediately to help save this life and get a manager or supervisor on the scene right away.
Workers' compensation paperwork will have to be filed shortly after the accident, and time is of the essence in these cases. Waiting a day or two could impact the viability of your claim or your compensation.
Keep in mind that virtually every employer must carry workers' compensation insurance, but just because you have filed a claim does not mean you'll be reimbursed for all of the expenses related to your injury. The law says that you're not permitted to file a personal injury lawsuit against your employer if you are injured as part of your regular job duties.
Please note that workers' compensation only provides for lost wages, medical bills, and other expenses related to your treatment. Workers' comp doesn't allow you to be compensated for pain and suffering, even in cases that the employer was clearly and grossly negligent.
However, if a third party caused your injury, you may be able to file a personal injury claim against that responsible party. For example, if a crane malfunctioned and caused you to fall, you may be able to file a claim against the machine manufacturer or the rental company that provided the crane.
A personal injury claim allows you to seek additional compensation, including pain and suffering. Surviving family members of someone killed on the job at a construction site may be able to file a wrongful death claim against the employer and any other parties who contributed to your loved one's death.